Batch Workflows
PWP 4.0 introduces a new batch workflow feature which allows you to specify a series of operations and apply them to a batch of images. Here are a few ways you can use workflows:
Transfer images from a camera card to your computer. Assign meaningful names.

Brighten, sharpen, correct color balance, lens distortion/aberration, change color profiles, or apply other corrections to a batch of images.

Resize images for use on the web or e-mail

Add file comments and copyright information.
The workflow is executed in the background, allowing you to continue to use PWP for other work or to leave it unattended until it completes. Workflows can be saved, so that you can develop a set of standard workflows for common tasks.
Workflows can be used to adjust color, brightness, sharpness and other parameters on a group of images that require the same treatment. They can also be used to for housekeeping tasks like moving, renaming, and resizing images, changing their file format, and adding EXIF descriptions and copyrights.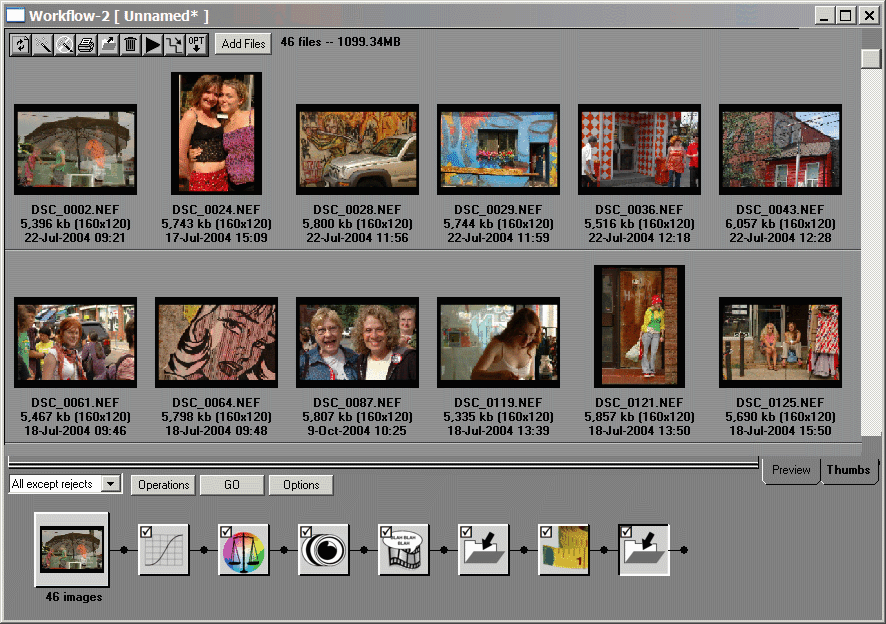 The workflow window is divided into two sections. The top section shows all the images that will be processed. The bottom section shows the operations. In this case the operations are (left to right) curves, color balance, sharpen, file comments and file save. After the save, the image is resized and saved again in a different location.